Congratulations to our May Students of the Month - Keeley Beary & Spencer Wyatt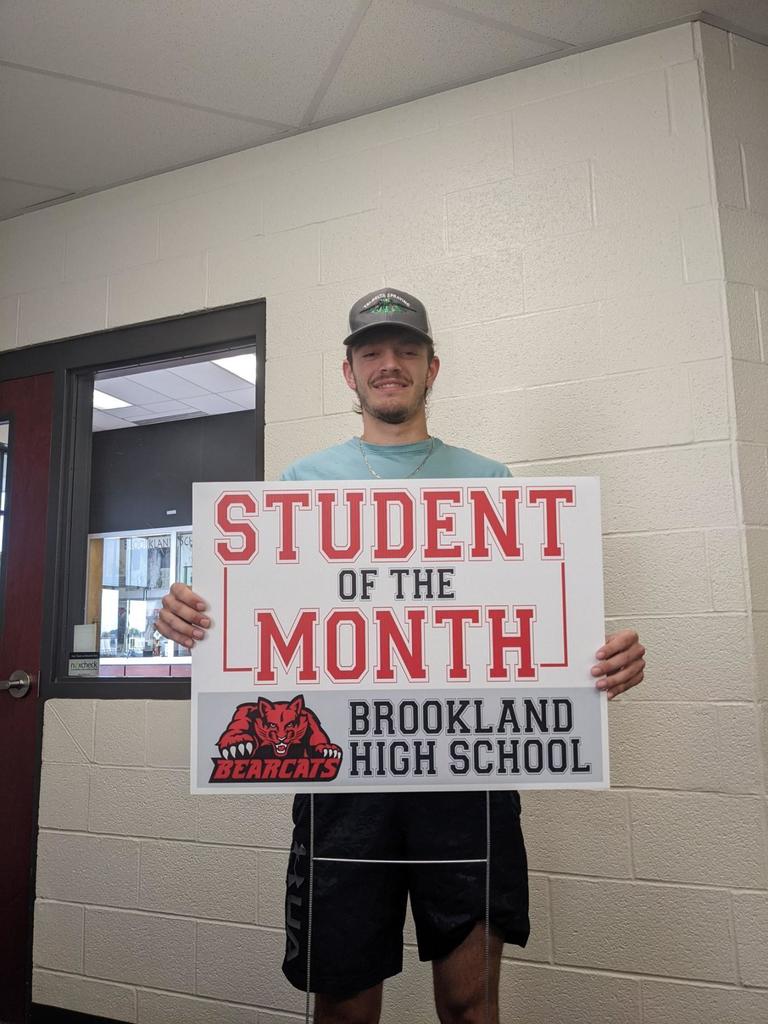 Congratulations to JAG students for earning the following certifications this year. 11 earned Everfi Keys to your Future 4 earned a forklift certification 2 earned the Southwest Airlines Professional Communication Certification 7 passed the Graphic LIteracy portion of Workkeys Congratulations to Survey of Business students who earned the following certifications this year. 4 earned Microsoft Office Specialist Word 1 earned Microsoft Office Specialist Excel 1 earned Microsoft Office Specialist PowerPoint

ALL TRACK uniforms need to be turned in ASAP.

If you are interested or think you might be interested in Cross Country!! There will be a Sr. High Cross Country Meeting tomorrow during the 7th period. In Coach Hammond's room.

If you are taking AP Chemistry next year, please stop by Ms. Herring's room to pick up the summer packet - Room 141.


Brookland High School is going to partner with Black River Technical College for concurrent classes for the 2022-2023 school year. We are so excited about all the new opportunities our students will have in the upcoming years.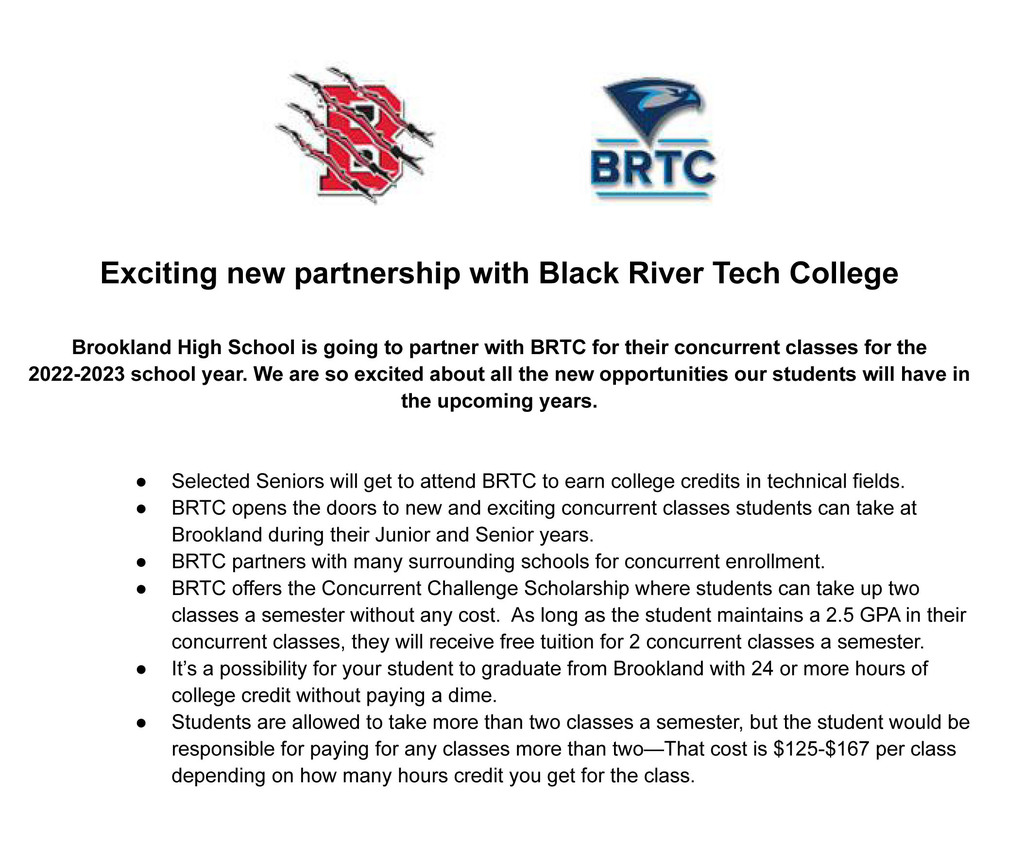 For students and parents of students taking concurrent classes next school year, please see the attached letter regarding our exciting new partnership with Black River Technical College.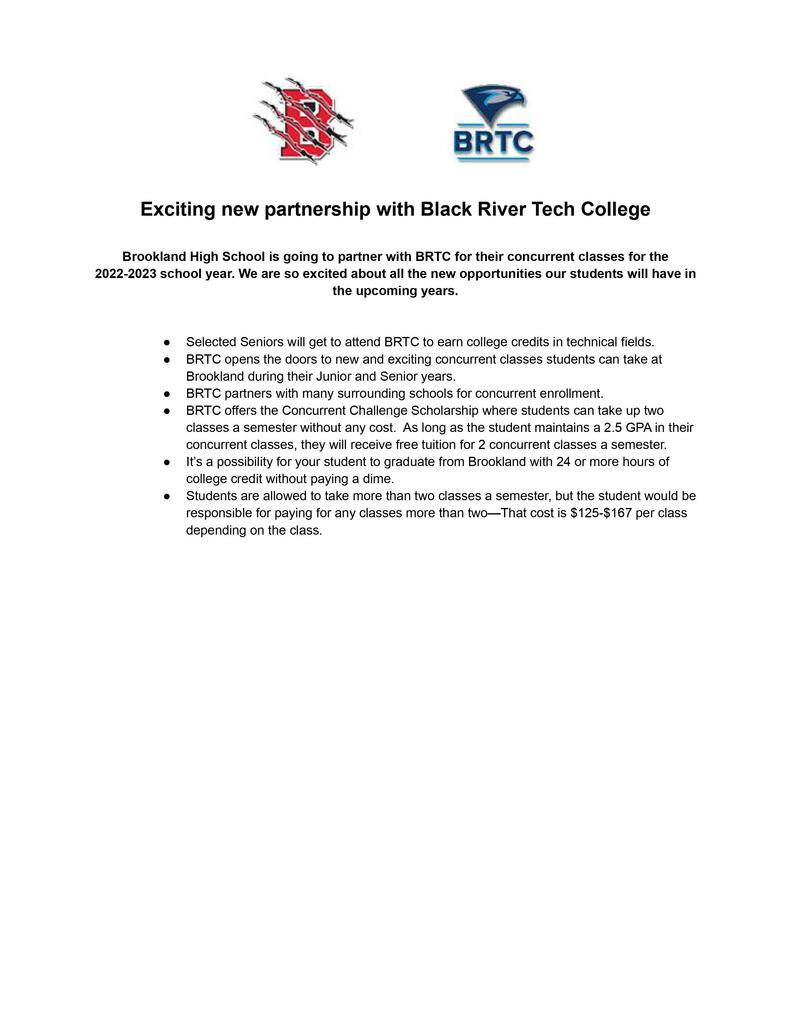 We will be taking up Chromebooks tomorrow during 4th and 6th periods. Please make sure your child brings their school issued Chromebook, bag, strap, charger, and that the Chromebook is charged. If not, the student will be asked to get out of line and charge the Chromebook and then get back in line. If your child has a hot spot checked out, or they have not returned library books, they will need to bring them to turn in. If students owe debt, there will be a table set up for them to take care of this debt tomorrow during this time. If they owe any new debt from the Chromebook check tomorrow or have old debt that is not taken care of, they will have a slip with that debt on it to take home.

The Brookland High School Yearbook has achieved the Jostens 2022 National Yearbook Program of Excellence award for the fourth year in a row!!! BHS was recognized for effective project management and for creating a meaningful book for all students! Also, shoutout to the elementary and middle school yearbook for also achieving this goal!!! Go Bearcats! :)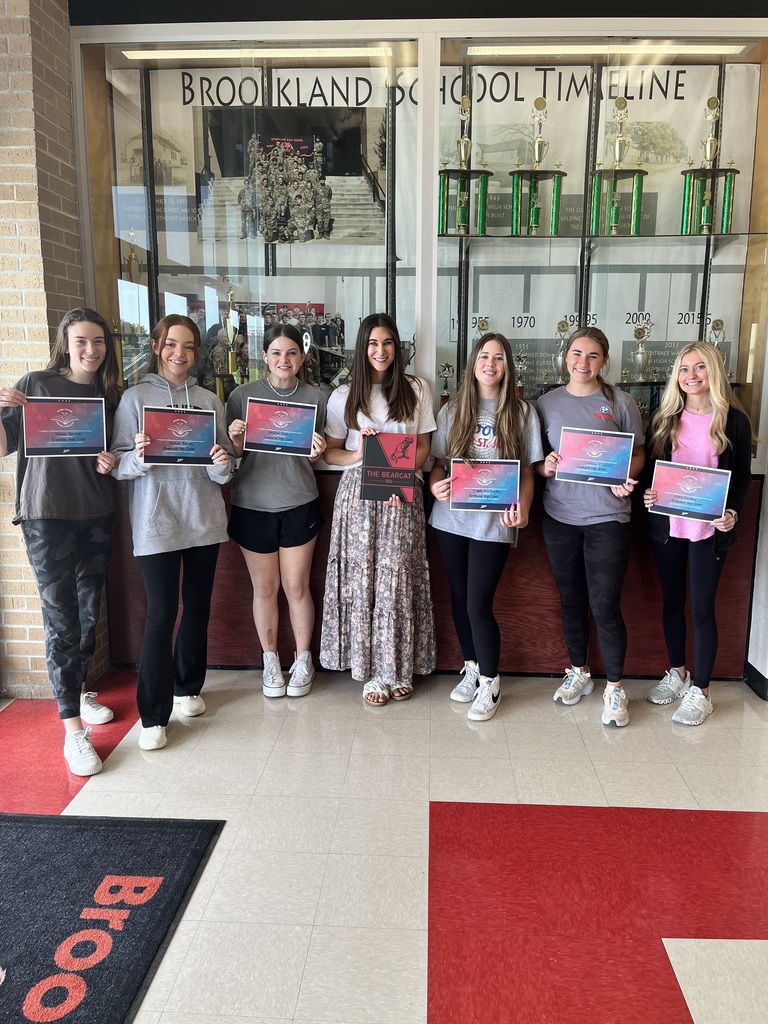 Any student in grades 10-12 who have had no discipline referrals for the year will be eligible to participate in PBIS EOY Bash on Friday, May 20 from 8-12. Students will have inflatables on the football field. We will have both wet and dry inflatables, yard Yahtzee, jenga, corn hole, and yard pong. Concessions will be available. Lunch will be served and after lunch students are allowed to check out. Please see Mrs. Hatton for a permission slip. Permission slips must be turned in to Mrs. Hatton by Wednesday, May 18.

Lady Bearcat Soccer Tryouts will be held this Friday and next Monday from 3:15-4:30. Please check your email for a registration form or contact Mrs. Paslay in the high school. This is for current 8th-11th grade females.

Congratulations to the newly elected 2022-23 BHS Student Council Representatives: Senior Representatives: Venessa Brannon Matthew "Kale" Cossey Cailynn Curtis Gabe Guimond Regan McGaughey Sybela Munera Sam Smithee Emmi Walton Catherine (Catie) Woodard Junior Representatives: Baleigh Bassham Carmen Campbell Kadie Garland Samantha Gulley Lauren Rodgers Bailey Smith Maddie Smith Addy Vowel Rylee Walker Sophomore Representatives Seham Aljaad Molly Kate Anthony Caroline "Carol" Canada Ethan Hendrix Ella McDaniel Laura Stephens Ella Kate Thompson Chayla Waggoner Freshman Representatives: Madalynn Harrell Jackson Lynn Hannah Ming Londyn Moore Haylie O'Quinn Noah Wood


Today, between 9:00AM-9:30AM tune into ESPN2 to watch the February Brookland HS Cheer Nationals performance- 3rd place finish in their division!

Please congratulate the girls' soccer team for reaching the semifinals tomorrow at 2:00PM vs PA. at Joe T. Robinson.

Jake Toombs was 1 of 2 juniors selected to represent Craighead County at the Youth on Tour Craighead Electric conference in Washington D.C.

Brookland High School will have a Class Scheduling Informational Drop-in on Thursday, May 19th, from 4-7PM in the BPS Auditorium. All parents/guardians of incoming 9th-12th grade students are welcome to attend. The purpose of this event is to give parents/guardians an opportunity to ask questions in person about upcoming class selections; Smart Core, Career Focus, and/or Core graduation requirements; or anything else pertaining to class/scheduling for the upcoming school year 2022-2023.